One of great things about the daily schedule at Sandy Hill is that campers get to make their own activity choices. The activities fall into two basic categories - Instructional Activities and Electives. Campers do three Instructional Activities each week. Campers do the same three Instructional Activities for an hour and fifteen minutes each day for a week at camp. Campers get to do one elective each day at camp for a total of four for each week. The list of electives is found below as well.
With over 30 instructional classes to choose from, campers can truly customize their Sandy Hill experience. Campers choose three instructional activities each week from the extensive list below. Classes meet daily for an hour and fifteen minutes, allowing campers to improve their skills under the guidance of talented and experienced instructors. Campers attending for multiple weeks have three different classes each week.
Classes are assigned based on the date of registration, so be sure to register as early as possible, as spaces are limited in some activities (especially waterskiing and horseback riding).
See the
Typical Daily Schedule
for details about the times that these activities are held and how they fit into each day of camp.
Acting
: Improve your audition! Do you enjoy acting or have plans to try out for a play? Campers select and memorize a short monologue, work on cold reading from a script, and hone their improvisation skills. Break a leg!
Archery
: Learn safety and skills of shooting a bow and arrow
Art
: Try your hand at drawing and painting using different media
Basketball
: Practice fundamentals and play on two outdoor courts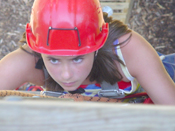 Canoeing
: Improve your skills and take short trips on the Elk River
Challenge Course
: Teamwork, leadership and adventure on the high and low challenge course
Climbing
: Climb, belay and repel on the high ropes course and climbing wall
(not for one-week JV campers)
Crafts
: Make some cool projects that aren't offered during free time crafts
Dance
: Learn and perform a modern dance routine
Field Hockey*
: Bring your sticks, shinguards, and mouthguards - no experience necessary
Fishing*
: Bring your rod to catch a variety of freshwater fish from the Chesapeake Bay
Fitness Cross Training
: If you need to get in shape or stay in shape for a sport while you are at camp, be sure to sign up for this class. Daily workouts will be varied and may include running, swimming, stairs, tae bo, kickboxing, strength training, flexibility, and more
(not for one-week JV campers)
Guitar (Beg.)
: Learn basic chords and strumming on the acoustic guitar
Horseback Riding
: English-style equitation lessons for beginning and intermediate riders - walk, trot, canter, and basic jumps
(additional $85 fee)
International Cooking
: Cook, bake, and taste delicious dishes from different countries each day
International Team Games
: Join some of our international staff in playing games that are wildly popular in their home countries, such as rugby, cricket, netball, "football"(a.k.a. soccer), and more
Lacrosse* (Coed)
: A coed version of the game with camp sticks and camp rules
(not for one-week JV campers)
Magic
: Learn and practice the basics of sleight of hand and close-up magic tricks
Musical Theater
: Fine tune your acting or singing, and perform scenes from Broadway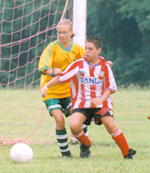 Outdoor Living Skills
: Outdoor cooking, fire- and shelter-building, orienteering and a special evening campfire in the woods
Photography
: Learn digital camera basics and practice composing photographs at scenic Sandy Hill
Recreational Swimming
: Play group games and have time for free swim at the pool
Sailing
: Learn to sail on Sunfish and American 14-6's
Soccer
: Work on the fundamentals and play organized games on two full-size outdoor fields
Stablehand
: Can't get enough of horses? Learn more about them while helping with grooming, feeding and barn chores. For kids who are comfortable around horses. There is no riding in this activity.
(not for one-week JV campers)
Swim Team
: Keep up your training by working out in the camp pool. Not swim lessons - campers must be able to swim 50m freestyle and backstroke. Perfect if you are missing a week of swim team while you are at camp!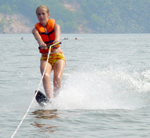 Team Games
: Play your favorite "All-American" games like kickball, flag football, capture the flag, ultimate frisbee, dodgeball, and more
Tennis*
: Learn how much fun tennis can be on six outdoor courts and work on strokes, strategy, and technique

Tumbling
: Small classes to develop skills at your level
Volleyball
: Practice and play on sand and grass courts
(not for one-week JV campers)
Waterskiing
: Beginning to advanced skiiers are welcome in this popular activity
(additional $60 fee)
* Bring your own equipment if possible
Electives offer campers the chance to experience a variety of activities in addition to their three instructional activities chosen from above. Each afternoon, campers do a different one of the following electives - a total of four for the week. There are a lot of great choices, so choose wisely.
See the
Typical Daily Schedule
for details about the times that these activities are held and how they fit into each day of camp.
---
Climbing
: Belayers ready? Ready! Campers will scale Sandy Hill's 50 foot rock climbing tower. But wait—you're tethered to two of your friends! Can you work together to make it to the top?
Escape Room
: Work in a team to solve a series of puzzles using clues, hints, and strategy to make your way out of our new camp-themed escape room.
Flag Football:
Enjoy a game of flag football - no tackling or pads.
Friendship Bracelets:
Try your hand at a simple bracelet or tackle a more complicated design. A camp favorite!
Giant Swing
: Plummet down a 30' foot drop and then swing out over a large ravine - what a rush!
Hair Wraps:
Part craft - part fashion, learn the art of hair wraps and practice on your new camp friends
(girls only)
High Ropes
: Put on your harness and get ready for adventures climbing poles and walking across high wires.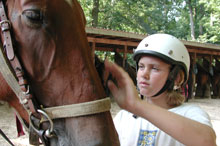 Horseback Trail Ride
: After an orientation in the stable area, set out to explore some of Sandy Hill's beautiful wooded trails by horseback.
Improvisation Workshop
: Have fun and improve your acting skills with some improvisation games. If you aren't sure what improvisational comedy is, think of the TV show "Who's Line Is It Anyway?"
(Varsity and Two-week only)
Indoor Movie
: Watch a new release or classic G or PG movie. Bring your pillow and relax and enjoy the air conditioning!
Kayak Trip
: We'll get oriented to our boats and take a short paddle (about 20 minutes) to a nearby beach to wade and swim, and then paddle back to camp.
Paddleboarding
: Try your hand at stand up paddleboarding down at the waterfront.
Speedboat/Swim
: Put on your lif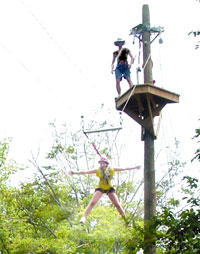 e vests! We're headed out for a pontoon or speed boat ride to find a quiet cove for some swimming and sunbathing.
Sweet Tooth
: Learn to make a special dessert - and get to eat it too!
Tubing
: Hold on tight! It's time for a wet and wild ride on our two-person tube, towed by a trained and experienced Sandy Hill motorboat driver.
Ultimate Frisbee:
Combine the non-stop action of soccer, the passing skills of football, and the old-fashioned fun of throwing a frisbee and you have the makings for a great game of Ultimate!
(not for JV)
Water War & Mini-Golf:
Test your putting skills on the mini-golf course. Then it's soak or be soaked. Squirt guns, water buckets, and other surprises designed for competing teams to see who can stay the driest. This is one activity where losing might actually be better than winning! (JV only)
Zipline
: Do you like heights? Then you'll LOVE the double zipline! You'll climb to a platform at the top of a 50 foot pole, and then zoom down a 300 foot cable—in the safety of a full-body harness of course!