Daily Schedule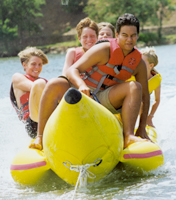 Get ready for the time of your life!

A day at Sandy Hill is definitely action-packed, with fun, friends, and new experiences at every turn. The morning and afternoon are divided into five activity periods. While the order of activities varies by age group and session length, the content of a day is the same for all campers:
- three instructional classes
- one elective and
- one period of free time
But that's not all! After dinner comes the exciting evening program, which varies from night to night and week to week. Two-week campers have special activities on their weekend that are described below as well.
Instructional Classes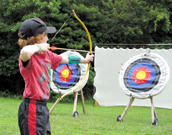 Waterskiing, horseback riding, sailing, magic, climbing, basketball, archery and more. Doesn't exactly sound like your typical day in class at school.
Click here
for detailed descriptions of your instructional activity options. Instructional classes make up three of the five activity periods in the morning and afternoon.
Electives - Something New Each Day!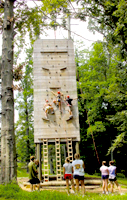 Each camper attends a different elective each day, enabling everyone to experience the wide range of activities Sandy Hill has to offer. Campers should sign up for their electives online by June 1st to receive priority elective registration. Each camper will have four electives per week. Elective offerings generally include canoe trips, sailing on a 39-foot sailboat, speedboat tours, tubing, horseback trail rides, the climbing tower, other ropes course elements, a movie, special craft, and the 300' zipline.
Click here
to see a description of the electives you can choose.
Free Time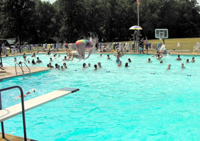 Sandy Hill's free time activities are centrally located, and the options seem endless. Swim, dive, or sunbathe at the pool. Grab a snack or shop for a souvenir at the camp store. How about basketball, sand volleyball, or some tetherball? And when you're ready to head indoors, the air-conditioned game room and craft center beckon. Counselors spend free time with their campers, getting to know them and making sure everyone is having fun. On some days, optional Christian services or informal discussions are offered for interested campers as well.
Evening Program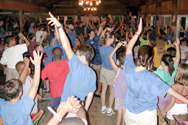 What would camp be without campfires, wacky competitions, talent shows, dances or skits? Sandy Hill's evening program offers all that and much more. A snack is served midway through the evenings festivities, which by the way, are kept top secret until the time arrives...so you'll just have to experience them for yourself!
Typical Daily Schedule
Time

JV
One-Week

Varsity
One-Week

Two-Week Campers

7:30

Flagpole

Wake-up and Cabin Cleanup

7:45

Breakfast

8:10

Flagpole

8:25

Clean Cabin

Breakfast

9:00

1st Instructional Activity

10:25

2nd Instructional Activity

11:50

Lunch

Rest Time

12:45

Rest Time

Lunch

1:15

Elective

Free Time

3rd Instructional Activity

2:40

Free Time

3rd Instructional Activity

Elective

4:05

3rd Instructional Activity

Elective

Free Time

5:30

Dinner

6:15

Games/Competitions

Dinner

7:00

Games/Competitions

7:45

Snack

8:30

Evening Activity

Snack

9:00

Evening Activity

9:15

To Cabins and Prep for Bed

9:30

To Cabins and Prep for Bed

10:10

Lights Out
One and Two-Week Camper Sessions
Sandy Hill offers both one-week (five day) and two-week (twelve day) camp sessions. All sessions begin on Sunday evenings and end late on Friday afternoons. On Friday, two-week campers travel to a skating rink and bowling alley. On Sunday afternoons, they spend their day at a major amusement park. Back at camp on Saturday, their schedule follows a slower pace, giving two-week campers some time to relax and try out some special activities not offered during the week. Saturday electives may include kayaking, scuba diving, wakeboarding, cake decorating, model rocketry, and more.