Instructional Activities. Free Time. Electives. Evening Program.
The carefully-crafted combination of these elements are part of what makes Sandy Hill a special place. But a good program alone cannot make a camp truly great. That takes people...Counselors who really are good role models, who care deeply, and who really do put their campers first...And campers, both new and old, who make Sandy Hill their home away from home and share so many special moments together...People are what make Sandy Hill truly amazing!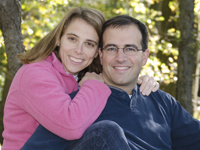 Greg and Kathy Ann Joseph have been directing Sandy Hill Camp since the program began in 1995. Kathy Ann has a Masters in Education from Stanford University plus experience in aquatics, boating, gymnastics, music, and theater. Prior to camp, she taught English and Spanish at a variety of levels from elementary to adult. Greg officially joined the Sandy Hill staff as the Executive Director in 1998. He worked for General Motors for eight years as an engineer and manager and has an M.S. in Engineering from Stanford University. Greg is also an Eagle Scout, a magician, and loves sports and the outdoors. Greg and Kathy Ann have three children.

Sandy Hill staff members are carefully selected on the basis of their integrity, maturity, enthusiasm, experience in working with young people, and skills in various camp activities. All counselors undergo a week of intensive staff training which includes sessions about safety, child development, behavior management, and much more.
Staff who work with the ropes course, horses, waterfront and pool have an additional week of technical training on safety and skills in their focus area. Most counselors are college students interested in being positive Christian role models for kids, and many return summer after summer. International counselors representing more than a fifteen countries make up approximately one-third of the staff each year and provide a culturally diverse experience for the campers. With over 160 staff, the overall camper to staff ratio at Sandy Hill is better than 3:1.