Junior Staff Training Programs
CIT, JC, AC
The Counselor-In-Training (CIT), Junior Counselor (JC) and Assistant Counselor (AC) programs at Sandy Hill are designed to introduce interested high-schoolers to the exciting, challenging, and rewarding world of being a camp counselor.

We are looking for folks who are motivated to work with children, are mature enough to put the needs of their campers above their own, and are positive role models for our campers. Those who successfully complete the Junior Staff program are eligible to be on Senior Staff (paid full-summer staff) after graduation from high school, which is a year sooner than staff applicants who have not gone through the program.

Senior Staff are the counselors who are directly responsible for campers and activities. CITs, JCs and ACs are always in an "assistant" role to a member of the Senior Staff.
Junior Staff Training Program Overview

Program
Finished Grade
Age
Selective
Cost/Pay
Length
When offered
How to Apply

9th or 10th

15 or 16

No

Costs $750

One week session

10th or 11th

16 or 17

Yes

Volunteer

Two one-week sessions

11th or 12th

17+

Yes

Paid
$340 per week

5 to 8 weeks
Click on any of the following program titles to learn more:
CIT, JC, AC, Senior Staff
---
CIT Weeks 1, 2, 3, 4, 5, 6, 7 or 8
For one-week campers currently in grades 9 or 10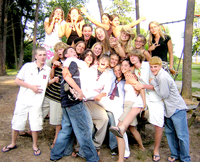 If you are interested in being a camp counselor someday, this is an opportunity you don't want to miss! The program is open to campers who have completed 9th or 10th grade and have attended at least one week of camp at Sandy Hill in the past. CIT campers attend morning workshops covering topics included in Sandy Hills regular staff training. In the afternoon and evening, CITs spend time staffing recreation areas and getting to know their campers. They "shadow" a senior counselor, assist with teaching activities to campers, attend a staff meeting, help prepare and serve some snacks, and get an insiders view of the details that go into the operation of Sandy Hill Camp.
The CIT program is a prerequisite to volunteering as a Junior Counselor at Sandy Hill. CITs attending other camp sessions in 2019 should do so before their week as a CIT.
CIT's live together in cabins separate from their campers (with either the male or female Junior Staff Director respectively).
Eligibility Summary:
Be interested in becoming a camp counselor and/or learning about working with children
Be ready to put the needs of your campers above your own and to be a positive role model for children
Currently be in 9th or 10th grade
Have completed or be registered for at least one traditional camp session at Sandy Hill before your CIT session (can be a session in 2019 or a prior year).

To sign up for a CIT session, use the
online camper registration system
, just like you registered for camp in previous years.
Return to the top
See answers to FAQs
---
(Weeks 1&2, 3&4, 5&6 or 7&8 - for past CITs currently in grades 10 or 11)
The two-week, volunteer, selective JC program is the second step to being a counselor at Sandy Hill for those who have completed the CIT program. JCs live in a cabin with younger Varsity campers and shadow the full-time counselors. JCs spend their days assisting with activities, helping with afternoon free-time and electives, working around campus, helping to prepare and serve some meals in the kitchen, and getting to know the kids in their cabin. The application process for JCs is the same as the process to be on full-time staff. Go to the
staff section
of the website and apply online there. Although you may apply beginning in the fall, interviews and hiring decisions usually don't begin for JCs until the early spring.
Eligibility Summary
Have successfully completed a CIT session
Currently be in 10th or 11th grade
To apply to be a JC, read through the "
Join our Staff
" section of the website, and then
click here to apply online
.
Return to the top
See answers to FAQs
All or most of the summer - for folks currently in grades 11 or 12)
Assistant Counselors spend part of their day supporting the camp program (assisting in activity areas, helping in the camp store, etc); around 6-7 hours each day in food service including food preparation, serving, and cleanup; and part of their day participating in camp activities with the campers in their cabin (going to dances, talent shows, evening competitions, etc.).
ACs sleep in cabins or lodges as a third staff member.ACs are invited to attend as much of the staff training week as they are available. They are also eligible to join in to the specialty training week for lifeguard, ropes, sailing, and other specialized trainings as well provided that they have relevant background in one of these areas.
ACs are paid approximately $260 per camper-week and are eligible to stay at camp on weekends between sessions as well as attend the Saturday staff trips to NYC, Washington DC, the beach, etc.
Eligibility Summary
:
Option 1)
Have successfully completed a JC session
Currently be in 11th grade
OR Option 2)
Currently be in 12th grade or have graduated from high school
To apply to be an AC, read through the "
Join our Staff
" section of the website, and then
click here to apply online
.
Return to the top
See answers to FAQs
Senior Staff are at least 18 and most have completed a year of college. Senior Staff must attend staff training and can miss only one week of the entire summer. Senior Staff make up the majority of the overall Sandy Hill staff.
To learn more about the senior staff, visit the "
Join Our Staff
" section of the website.
Eligibility Summary:
Option 1)
Be at least 18 years old (although most Senior Staff are 19 and older)
Have completed at least one year of college
OR Option 2)
Have successfully completed the AC program
Have graduated from high school by the start of camp
Be at least 17 years old by the start of camp
---
Can I be with my friend in a cabin as a CIT or JC?
CITs - yes. All female CITs will be in one cabin on the girls' side with the female Junior Staff Director, and all male CITs will be in a cabin on the boys' side with the male Junior Staff Director. During the day, each CIT will be assigned to work with one JV cabin for the week.
JC's - no. There is only one JC per cabin.
Do CITs get to do instructional activities, electives, or free time?
No, no, and yes. CITs assist senior staff to teach an instructional activity for one period each day. CITs do not have electives. CITs do get "free time" on some days with their own age group and spend other days playing with the JV campers in their cabin.
Can I do CIT and JC or JC and AC in the same summer?
Yes.
Can I be a camper and a CIT or a camper and a JC in the same summer?
Yes. CIT weeks count toward the maximum of three camper-weeks per summer. JC weeks do NOT count toward the three-week maximum. So a person can be a camper for 3 weeks and also a JC for two additional weeks in a single summer. If you are considering being both a camper and a CIT or JC in the same summer, we strongly encourage you to do the camper part first and the staff part second.
Can I sign up for a CIT session more than once?
Under normal circumstances, no. The CIT program is intended to be done only once.
Can the CIT/JC program count towards community service?
That is a question for your school. If your school counts it, then we are happy to vouch for the experience that you have completed. Typically, a week of CIT contains 40 volunteer hours. Each JC week contains about 50 hours - so 100 hours across the combined two-weeks.
I'm currently in 9th grade, but I've never been a camper at Sandy Hill. Can I be in the CIT program?
Yes, but you must come as a camper this summer for at least one week of Sandy Hills traditional camp before your CIT session later in the summer. For example, you can come as a camper week 4 and then do any of the CIT sessions from weeks 5 thru 8.
Why do CITs have to have been a camper before they can be a CIT?
Although many aspects of working with children in the camp setting are universal, much of a staff members ability to be an effective counselor at Sandy Hill stems from his/her specific knowledge of how our camp works. For example, one of a CITs first tasks on registration Sunday is to show campers to their cabins. If you've never been a camper, its a bit difficult to know where to direct the arriving campers.
Can JCs and ACs stay at camp on the weekend between their two weeks of camp?
JCs - no. ACs - with parental consent. ACs are also eligible to attend staff weekend trips to NYC, DC, Rehoboth, etc.
Are CITs and JCs allowed to drive themselves to camp?
Sandy Hill permits campers, CITs and JCs to drive themselves to camp as long as they are fully licensed to do so. Like campers, CITs must drop their keys off at the office once they have arrived. They can pick them up at the end of their session. JCs may use their vehicles during the course of the week during their time off if they so choose. If driving themselves to camp, campers, CITs and JCs must have written permission from their parents/guardians before their arrival.
If I want to be on staff at Sandy Hill someday, do I have to go through the CIT/JC/AC program?
No, but you must have completed at least one year of college and be 18 years old to be on senior staff. If you go through the Junior Staff program, you would be eligible to be on Senior Staff after your senior year in high school - that's a year ahead of someone who has not completed the Junior Staff program.
Return to the top
See answers to FAQs